The Development team has defined several CADRE user groups. These groups will determine the platform functionalities an assigned user has access to. The team has completed a preliminary outline of permission levels and overall responsibilities for each group.
Below are the currently identified user groups. As the platform develops these roles may change.
---
CADRE User Groups
Roles
Working definitions
Data Applicant / Data User
are the end-users of the CADRE Platform. They are mainly researchers or HDR students working with academics relating to Social Science sensitive data. The difference between the Data Applicant and Data User is that the Data Applicant requests access to the datasets. In contrast, Data Users are the ones who have had their requests approved and are currently using the datasets for their work/research.
Note: Data Applicant / Data Users will not have additional permissions to perform tasks other than the ones mentioned below in this table, unless assigned to user groups with higher permissions, such as Data Custodian, Data Owner, Access Manager, or Super Admins.
Data Custodian / Data Owner
Data Custodians are the ones who can create Datasets. Also, manage Datasets relevant things such as questions, terms and conditions (TCs), and licenses.
Note: Data Custodians can carry out their tasks mentioned above, in addition to the functions of the Data Users. Users from this group will have permission to carry out all the functions of a Data User.
Access Manager
Assign documents to the specific datasets that the Data Applicant will have to complete as part of the Data Sharing Request (DSR).
Admin
Are users who have permission to carry out all the tasks of the Data Owners, Data Custodians and Access Managers.
Super Admin
CADRE Super Admins are the people who hold all permissions on the CADRE Platform. In short, they have the jurisdiction over the entire CADRE platform.
Note: CADRE – Super Admins can carry out their tasks, in addition to the functions of the Data Users, Data Custodians, Data Owners, and Access Managers. They are permitted to perform all tasks on the CADRE Platform.
The Content Working Group (CWG) will assist with ensuring that groups and their responsibilities are adequately covered. The CWG is made up of a diverse group of internal and external partners who provide knowledge and expertise for different areas of development for CADRE. Their input for this particular platform development has been invaluable because they can provide different perspectives including data custodian and data user roles.
Questions discussed by the CWG included:
Who can submit the data access request?
If data applicants request access to more than one dataset, how is that request processed?
Are data sharing agreements for a user or a dataset?
Are roles linked to datasets?
Should a user have the ability to hold more than one role?
The basic permission levels for a Data Sharing Request (DSR) have also been discussed. There are four permission levels: none, edit, manage and submit. If a data applicant has no permissions they can only access and view a dataset once approved. They have no privileges to edit, manage or submit a DSR. A data applicant with submit permissions can also edit and manage the DSR. They have the highest privileges. It is mandatory that at least one person on a project has 'submit' permissions so they can undertake any necessary actions linked to submitting or resubmitting a request for access to data.
---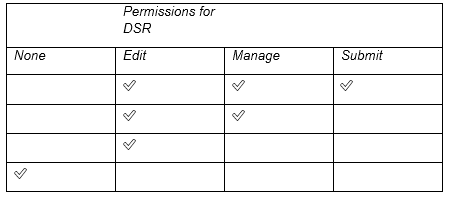 The user groups, responsibilities and permissions will be refined further as the development of the platform progresses. There has already been a reassessment of the work because of the consultation with the CWG. This will continue until the platform is launched for beta testing.
Image credit: Creators Project DUMBO BROOKLYN Michael Tapp. cc by-nc 2.0